Guidelines and standards offer a road map for implementing a preventive maintenance program focused on safety.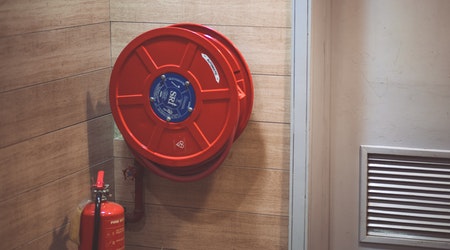 Hot Issue: Maintaining Fire-Rated Doors
Fire-rated doors are integral components of any passive fire-protection design in the built environment. While occupants and visitors use some of these doors daily, they rarely use other fire doors, which remain held open or closed. Without proper design specifications and comprehensive inspection and maintenance procedures, fire doors that fall into this latter category are significantly less likely to effectively protect the opening.
To protect against the spread of fire and smoke within, into or out of buildings, maintenance and engineering managers need to implement a preventive maintenance program for fire doors in accordance with locally adopted codes and national standards.
Laying Groundwork
While several tragic fires have led to significant revisions to the model codes and standards related to fire doors, building owners and managers continue to neglect inspection and maintenance procedures.
To understand the scope of fire doors, it is important to know these definitions by the National Fire Protection Association (NFPA) and the 
International Code Council
. A fire door is the door component of a fire door assembly. This assembly is any combination of a fire door, frame, hardware and other accessories that together provide a specific degree of fire protection to the opening.
Fire doors fall into categories that include: swinging; horizontal sliding; sliding special purpose; vertically sliding; rolling steel; fire shutters; service counter; hoistway doors for elevators and dumbwaiters; chutes; and access. 
NFPA 101, the Life Safety Code
, and the model building codes and fire codes specify the minimum fire-protection rating for fire doors as ranging from 30 minutes to three hours or more.
The NFPA claims failure to close is the most common failure mode of fire doors in actual fires. Contributing factors include: lack of maintenance; physical damage to the closure, door, guides, or tracks; and doorway blockages. Some common faults observed on swinging fire doors include inoperative latches and improperly adjusted closing devices.
Managers cannot ensure reliable fire-door performance unless doorways remain clean and technicians maintain doors in operating condition. Under NFPA 1, the Uniform Fire Code, NFPA 101, the Life Safety Code, and the International Fire Code, organizations must maintain fire doors used to protect openings in walls, floors, and ceilings to prevent or retard the spread of fire and smoke within, into, or out of buildings according to 
NFPA 80
, Standard for Fire Doors and Other Opening Protectives.
The 2007 edition of the NFPA 80 mandates facilities use only labeled fire doors, and a label must be affixed permanently to the door or frame. Doors, shutters and windows must be operable at all times and kept closed and latched or arranged for automatic closing.
When replacing fire doors, shutters, windows or their frames, the glazing materials, hardware, and closing-mechanism replacements must meet the requirements for fire protection and be installed as required by standards for new installations. Also, technicians without delay must make repairs and correct defects that could interfere with operation.
In cases of field modifications to a fire-door assembly, technicians should contact the laboratory whose label is on the assembly and describe the modifications. If the laboratory finds the modifications will not compromise the integrity and assembly's fire-resistance capabilities, it will authorize the modifications without a field visit.
Testing, Testing
To minimize failures and improve reliability, NFPA 80 states, "Fire door assemblies shall be inspected and tested not less than annually, and a written record of the inspection shall be signed and kept for inspection by the Authority Having Jurisdiction (AHJ)."
While managers can schedule inspections, testing, and maintenance for fire-door assemblies under a written performance-based program, the goals established under such a program should ensure the assembly will perform as intended when exposed to fire conditions.
Managers need to document the technical justification for inspection, testing, and maintenance intervals. The performance-based option should include historical data acceptable to the AHJ. Individuals with knowledge and understanding of the operating components of the type of door being tested should perform functional testing of fire-door and window assemblies. Before testing, the inspector should perform a visual inspection to identify damaged or missing parts that could create a hazard during testing or affect operation or resetting.
Managers should follow NFPA 80 guidelines for swinging doors with building hardware or fire-door hardware, and visual inspections of fire doors should cover both sides to assess the overall condition of the assembly. As a minimum, inspectors should verify these items:
•No open holes or breaks exist in surfaces of the door or frame.
•Glazing, vision light frames, and glazing beads are intact and securely fastened, if so equipped.
•The door, frame, hinges, hardware, and non-combustible threshold are secured, aligned, and working, with no visible damage.
•No parts are missing or broken.
•Door clearances at the door edge to the frame on the pull side of the door do not exceed 1/8-inch or 3/4-inch undercut.
•The self-closing device works; that is, the active door completely closes when operated from the full open position.
•If a coordinator is in place, the inactive leaf closes before the active leaf.
•Latching hardware operates and secures the door when it is in the closed position.
•The door or frame has no auxiliary hardware items that interfere or prohibit operation.
•The door assembly has no field modifications that void the label.
•Inspections verify the integrity of gasketing and edge seals, where required.
Preventing door blockage is critical to minimizing the spread of fire and smoke. Door openings and the surrounding areas must be clear of anything that could obstruct or interfere with the door's free operation. Where necessary, technicians should build a barrier to prevent the piling of material against sliding doors. Blocking or wedging doors in the open position must be prohibited.
Closing Thoughts
Proper maintenance of closing mechanisms is equally important in protecting occupants and visitors. NFPA 80 mandates the following:
•Self-closing devices must be in working condition.
•At frequent intervals, operate swinging doors normally held in the open position and equipped with automatic-closing devices to ensure operation.
•Annually inspect and test all horizontal or vertical sliding and rolling fire doors for operation and full closure.
•Reset the release mechanism according to the manufacturer's instructions.
•Maintain and make available to the AHJ a written record.
•When conducting the annual test for operation and full closure on rolling steel fire doors, perform two drop tests. The first test checks for operation and full closure, and the second test verifies the automatic-closing device has been reset.
•Do not paint fusible links or other heat-actuated devices and release devices.
•Prevent paint from accumulating on movable parts.
The model codes and NFPA 80 offer ample measures for the inspection and maintenance of fire doors, closing devices, latches, and hardware. Many buildings, including high-rises, health care facilities, office buildings, and warehouses are likely to have fire doors. Should a fire occur, the health, safety and welfare of building occupants and emergency responders depend on a proactive, comprehensive fire-door preventive maintenance program.
Robert Trotter, CBO, CFM, is a consultant in regulatory compliance services at Smith Seckman Reid, an engineering design and facility consulting firm. He has 22 years of experience in fire service, including 12 years as Fire Marshal in Franklin, Tenn. He is an NFPA Certified Fire Inspector I and a member of NFPA's Health Care Section.
This article originally appeared on www.FacilitiesNet.com.