A plain metal or composite front door may not create the first impression you want guests to have of your home. Fortunately, you don't have to let your budget have the last word. An inexpensive front door doesn't have to make your entry look cheap. You can create a striking, refined entry by decorating the door and the space surrounding it.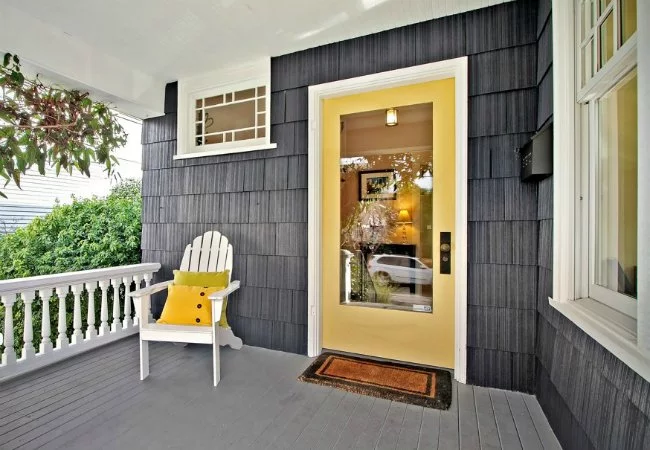 Paint It
Painting is one of the simplest and most effective ways to give a front door a new look. Priming well before you apply the paint -- using primer designed for your door's surface -- is the key to disguising the cheap building material underneath the paint. Choose glossy paint, and consider an oil-based version for the smoothest and most durable finish. Consider using a bold color, such as red, yellow, plum or peacock blue. If you prefer a more subdued look, opt for black, navy or bottle green.
Add Molding
Add architectural interest to a plain slab door by adding wall panel molding. Arrange the molding into a pattern of mitered squares or rectangles to create the paneled look of pricier doors. If you live in an older home, study historical door styles for the molding pattern that best suits your architecture. Affix the molding with construction glue, finish nails or both, depending on your door material. Fill in any nail holes with putty, and then sand the putty smooth. Finally, prime and paint the molding to match your door.
Replace the Hardware
Replacing cheap or worn, pitted hardware makes a huge difference to the look of your front door. The eye assumes the door is just as fine as its "jewelry." Trade skimpy round knobs for a brass, bronze or brushed steel entry set that features an egg-shaped knob or an elongated handle and thumb latch. For the grandest effect, choose a set with an escutcheon, which is a matching back plate. Finish the look with a kickplate and door knocker. Add a matching mail slot if appropriate.
Draw the Eye Elsewhere
If you surround your entry with attractive objects, the eye sees the whole package rather than focusing on the actual door. Arrange terracotta pots full of plants or flowers on the steps leading up to your entry, or flank the door with a pair of topiary-filled urns for a more formal look. Lay a plush new welcome mat in front of the threshold. If you have a basic builder's grade light above or beside your front door, replace it with a larger lantern-style light in a finish that matches or complements your door hardware.

This article originally appeared on www.Homeguides.SFGate.com.